Our Cow Cabins are located on privately owned ranch land near the Hoback Rim. Super cabins with wonderful views!
Cow Cabins are secluded and private, yet within an easy day's drive of either Jackson Hole or Pinedale. It offers an ideal location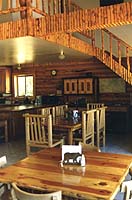 for personal, business, or group gatherings & retreats. The public may rent these facilities for a day, week or month, depending on availability. The camp is perfect for anyone wanting "away-from-the-crowds" lodging near Jackson Hole, Bondurant, or Pinedale, Wyoming with easy access to the Snake River or Green River areas.
Cow Cabins offer a main log lodge and a smaller log cabin nestled next to trees and with wide, relaxing views. These cabins are very new and are on private cattle ranch land that has run cattle for over 90 years. Both cabins were built by craftsman, Keith Manning, along with most of the furniture in them. The main lodge has three bedrooms, 1 full bathroom and a half bathroom, satellite TV, washer, clothesline, restricted telephone service, and a fully equipped kitchen.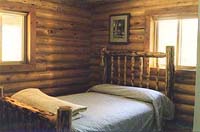 The smaller log cabin is located about 150 feet from the main lodge over the crest of a hill in a grove of aspens. It has one queen bed in the loft and two single beds on the ground floor, basic cooking facilities, and a full bathroom. Cooking utensils, dishes, linens and towels provided. These cabins are very nice and well cared for. They are largely furnished with hand-made pine furniture. There is running water, electricity, propane heat & wood stoves in both cabins. While very secluded, the cabins are located only a couple miles from Highway 191, providing easy access from both Jackson Hole and Pinedale, Wyoming.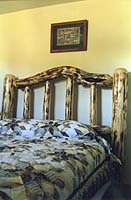 Cow Cabins are a great basecamp for outings into the Gros Ventre, Wyoming Range, and the Upper Green. During the summer, enjoy horseback riding, mountain biking, hiking, wildlife viewing and just getting away from it all. Cow Creek, located on the property, offers excellent stream and pond fishing for brook trout. There is excellent fly fishing in the area. Wildlife seen include deer, antelope, moose, many birds, elk and bear. A Wyoming Game & Fish elk winter feedground is located just a mile and a half past the cabins. Our cattle roam the property. Horse facilities on-site.